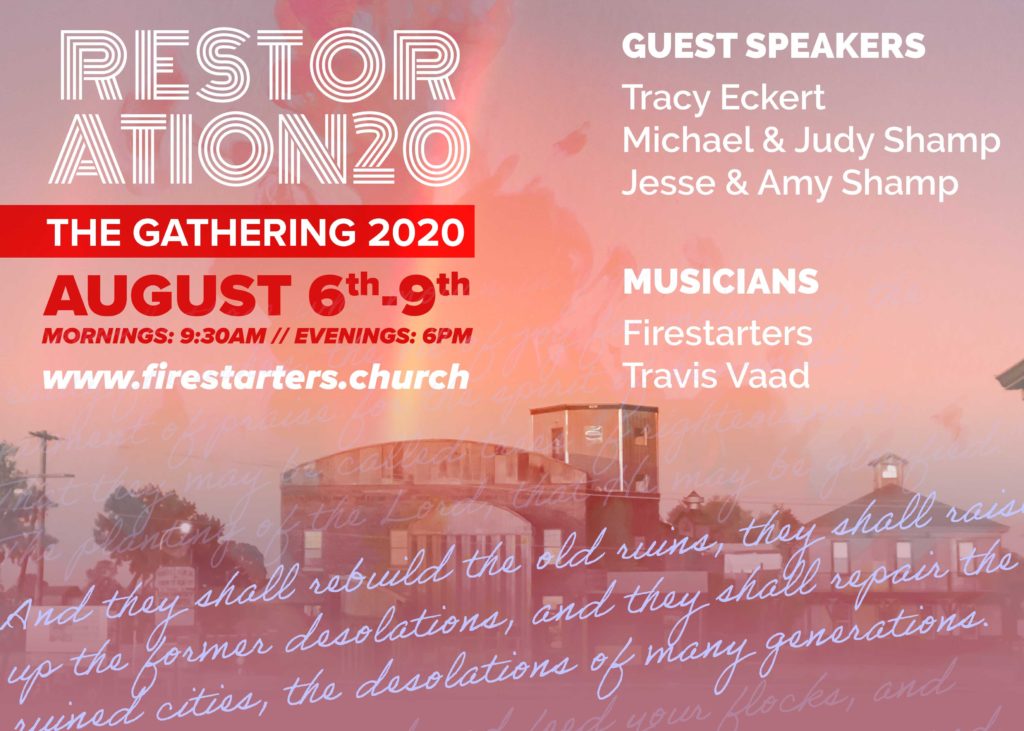 The Gathering 2020
Firestarters' Gathering 2020 event will take place August 6th-9th, 2020.
Mark your calendars for this fun time filled with true worshippers, musicians, prophetic friends, miracle workers, psalmists, dancers, artists, poets, artisans, and Biblical teachers, along with our special guest speakers. We'll look forward to seeing you there as we gather in the presence of the Lord for our annual event.
We will have morning meetings at 9:30 AM and evening meetings 6:30 PM. There will be lots of time to hang out and enjoy the lake between meetings.
Speakers
Guest Speakers:
Tracy Eckert
Michael and Judy Shamp
Jesse and Amy Shamp
Tracy Eckert is Co-founder and Director of Storehouse, an evangelical missions organization committed to establishing worship and prayer in Dallas and training leaders as both kings and priests to bring the Kingdom of God into every sphere of influence. Currently serving the city six days per week, the Dallas House of prayer offers live worship and prayer sets four days per week, two weekly equipping services, a school/internship program, and fully functioning ministries that serve all ages.
A former marketing executive of a successful company, Tracy was radically converted in 1999. Following a series of divine appointments she eventually met one of her spiritual fathers, Lou Engle, the visionary and co-founder of TheCall solemn assemblies. The connection inspired Tracy and her husband, John, to begin StandUSA, a former mobilization organization dedicated to educating and registering young voters across the nation. The connection also launched them into a fervent commitment of their lives to governmental intercession, and to stand for life, justice issues, and the ending of abortion. After that, she was also introduced to International House of Prayer in Kansas City and, through a series of events, the Lord called she & John to start a house of prayer in their home. Storehouse began in 2007 and continues to this day.
Tracy attended Stephen F. Austin University and University of Texas Austin. She served on the board of the Lupus Foundation from 1990-1992. She is an intercessor, sought-after speaker, and champion for life and women. She has a contagious zeal for the things of the Lord and is a gifted prophetic teacher. Tracy and her husband have seven children, eleven grandchildren and two on the way.
Michael and Judy Shamp are the founders of Resurrection Fire International. Michael is a evangelist who preaches a Now word to impact, impart, and equip God's people to boldly step out to sow, water, and reap the harvest by the word spoken through Luke 4:18-19. Michael has gone into the nations and churches of America, by faith, with the anointing of God and the power of the Holy Spirit through miracles, signs, and wonders, to Ignite Resurrection Fire of Christ into the nations and individual lives.
Jesse and Amy Shamp are the founders of Kingdom Culture International and live in Nashville, TN. Jesse and Amy are dynamic speakers, authors, and appointed prophetic voices for this hour. Both Jesse and Amy have powerful testimonies of radical transformation by the power of the Holy Spirit; through their stories, many have been healed, saved, and set free! Signs, wonders, and miracles follow their ministry, and they are passionate about leading others to salvation through the demonstration of the gospel.