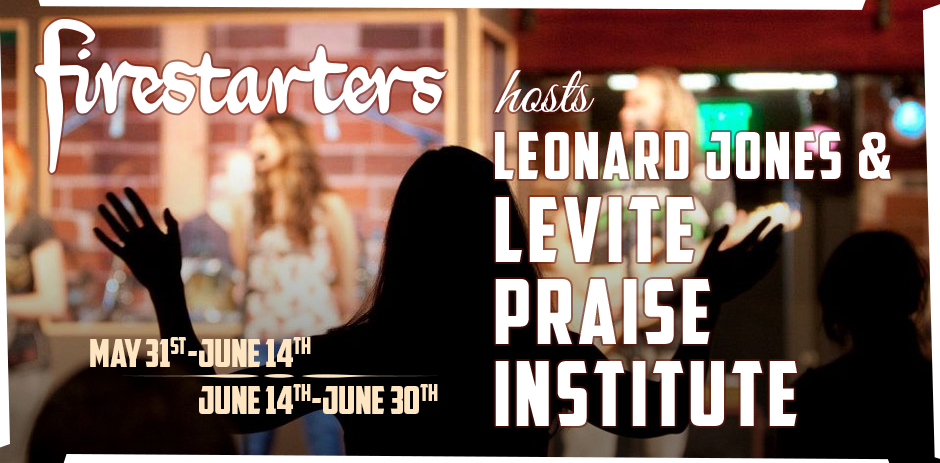 Firestarters Hosts Leonard Jones & Levite Praise Institute
[su_row]
[su_column size="1/3″]
Experience breakthrough with your music and worship. Improve your skills as a musician, draw closer to God through worship, and enjoy time with a community of believers who are passionate about Kingdom living and relationships.
Details:
Dates:
1st: May 31st—June 14th
2nd: June 14th—June 30th
Cost
$1,500 for two weeks
$2,500 for four weeks
Both include housing and weekday meals.
Application
Download Application
Questions? Give us a call!
Phone: +1.218.831.8675
[/su_column]
[su_column size="2/3″]
Firestarters is proud to host Leonard Jones and Levite Praise Institute in Ottertail, MN for two intensive music/worship schools in June of 2014. Special guests include Jason Upton and Rick Pino. Each course is two weeks in length. Students have the option of attending one or both of these courses. There is a discounted price for the second course should you choose to stay on for the full month. There will also be some special attention given to students who participate in both schools to avoid an exact repeat in curriculum. We prefer that this decision be made in the application process. However, we will be flexible for those who are unable to decide this far in advance. Please let us know as early as possible if you wish to take both courses.
These programs will be deep and very rewarding both spiritually and technically. They are not intended for those who simply want to hang out and attend worship services. However, they are also not designed for students who merely desire to improve on their craft. Our goal is for each student to complete the course with a more fervent love for Jesus Christ and a deeper understanding of worship, along with the tools to apply his or her gifts with cunning and skill. Think of these courses as a brief boot camp for your spirit, soul, and body.
We will also have several recreational options during these times. Ottertail is located in west central Minnesota in the heart of the state's lakes country. June is a beautiful month to be in the "Land of 10,000 Lakes." Swimming, fishing, a wide array of watersports, and evening campfires will be regular activities during these schools.
We have decided to keep the number of applicants fairly low to maintain an intimate and personal learning environment for students. Applications will be considered on a first-come, first-serve basis. This will allow for more one-on-one time with the instructors, as well as create a strong community setting for relational growth. Special guests will include Jason Upton and Rick Pino along with other instructors. Get ready for some amazing times of learning and growing together.
Registration and orientation for the first school will be held on Saturday, May 31st with closing and departure on Saturday, June 14th. Registration and orientation for the second school will be on Saturday, June 14th with closing and departure on Monday, June 30th. If you (particularly international students) need to arrive a day or two early for either school, arrangements can be made.
The cost for each of the two week schools is $1,500. The cost for the full month is $2,500. This includes housing for the duration of your stay and your weekday meals. For accepted applicants, Click Here to make an online payment toward your enrollment in the worship school. Bring extra funds for weekend meals and recreational activities.
Payment Schedule:
$500 minimum downpayment
Due upon acceptance of your application
Will secure your enrollment
Remainder Due by May 28th, 2014
ABOUT LEONARD JONES
Leonard Jones has been involved with worship ministry for 38 years. He trained in Composition and Theory at FJC and JU, with a minor in Violin Performance. His last 20 years have been spent leading worship at MorningStar Ministries and raising up hundreds of worship leaders and musicians at their school of worship which have spread throughout the world. He is accomplished in many styles including but not limited to; jazz, rock, classical and world music. He left MorningStar in March of 2010 to pursue his vision for a full-blown worship university, with the same degree of excellence as the major music schools of the world and has begun moving in that direction with the birth of "Levite Praise Institute" and is currently also leading worship at sites throughout the globe.
To visit Leonard Jones's website, click here:
www.leonardjones.org
To visit the Levite Praise Institute's website, click here:
www.levitepraise.org
To share the Facebook event page for the upcoming school with a friend, click here:
Facebook Event: Worship School
Video of LPI Music School Promo
Video from Leonard's most recently completed school
Video of Leonard at a recent Firestarter's Worship Retreat,
playing two songs from his new record, "Crowns"
and announcing his upcoming Worship School in Ottertail
Video of LPI Instructor, Daniel MacFarlane

[/su_column]
[/su_row]