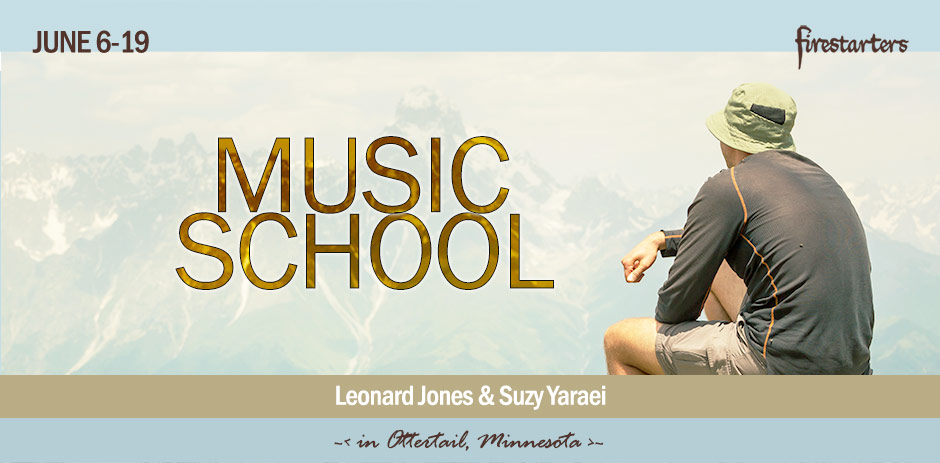 Firestarters Music School 2016: With Leonard Jones and Suzy Yaraei
[su_row]
[su_column size="1/3″]
Experience breakthrough with your music and worship. Improve your skills as a musician, draw closer to God through worship, and enjoy time with a community of believers who are passionate about Kingdom living and relationships.
Details:
Dates:
June 6th-19th
Cost (includes lodging and weekday meals)
$1,950
Application
Download Application
Questions? Give us a call!
Phone: +1.218.831.8675
Email: peter@firestartersmusic.com
[/su_column]
[su_column size="2/3″]
Firestarters Academy of the Arts presents our school of music 2016. We are calling minstrels, psalmists and musicianaries to a higher place in their crafts as artists and in their ministry before The Lord and his people. Our heart is to see the Levites rise up around the globe and walk in the fullness of what He has put on the inside of them. We believe this is a wonderful opportunity to discover the hidden treasure that you carry and learn to release it with greater excellence and accuracy. Students will receive instruction from veteran musicians and ministers including Leonard Jones, Suzy and Kamran Yaraei and more. As well as powerful training from Adam Cates , Will Hart and the Firestarters musicians. We will also be holding Skype classes with several amazing teachers who will be announced in the coming months. From classroom to private lessons and everything in between, it has always been our passion to create an environment of community and family to maximize our learning experience and encounter with Holy Spirit. "I will revive Davids Fallen Tent. I will rebuild its ruin and restore its former glory, that all the world may seek the Lord (Acts 15:16). Don't miss Firestarters Academy of the Arts in Ottertail, Minnesota June 6th-19th.
---
Firestarters Academy of the Arts
June 6th-19th in Ottertail, MN
Instruction from Leonard Jones, Suzy and Kamran Yaraei, Adam Cates and the Firestarters Musicians. Skype instructors TBA.
With courses in music theory, composition/song writing, band dynamics, and spontaneous/prophetic music and worship.
Private lessons available to all students.
Tuition $1,950-includes Housing and weekday meals.
Students also have the option of attending only one week at a cost of $1,175 including housing and weekday meals
ABOUT LEONARD JONES
Leonard Jones has been involved with worship ministry for 38 years. He trained in Composition and Theory at FJC and JU, with a minor in Violin Performance. His last 20 years have been spent leading worship at MorningStar Ministries and raising up hundreds of worship leaders and musicians at their school of worship which have spread throughout the world. He is accomplished in many styles including but not limited to; jazz, rock, classical and world music. He left MorningStar in March of 2010 to pursue his vision for a full-blown worship university, with the same degree of excellence as the major music schools of the world and has begun moving in that direction with the birth of "Levite Praise Institute" and is currently also leading worship at sites throughout the globe.
To visit Leonard Jones's website, click here:
www.leonardjones.org
ABOUT SUZY YARAEI
Suzy Yaraei is a gifted songwriter, prophetic worship leader, speaker, jazz and pop vocalist, and author. Her worship CDs, Simple, Shining, Spin, Praise is Beautiful, and Rocket contain powerful and moving songs, mostly all originals. Widely known for her deep level of prophetic and spontaneous singing, Suzy has helped countless people across the globe discover their identity in Christ and develop freedom of creative expression in worship. Through worship consulting, schools, conferences, and meetings, she releases and encourages musicians, worship leaders, and everyone in the body of Christ to higher and deeper levels of worship in music. She inspires believers to a lifestyle that goes beyond rules and traditions and into the boundless heart of our Creator.

DOWNLOAD THE FLYER