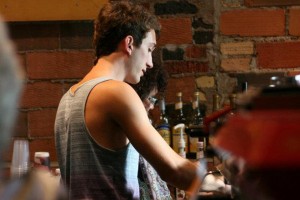 We are looking for interns to join our rapidly growing community in Ottertail, Minnesota, for our exciting internship program this summer.
Firestarters is a music and arts based ministry located in Ottertail, MN. In addition to our main concert hall and Coffee House venue, located within The Ottertail Creamery building downtown, Firestarters also has an off site full production studio. Our passion is to reach this generation through music/arts and ministry. Throughout each year, we host live concerts, annual events, weddings, fashion shows and more.
Audio Technician
Video Technician
Office Administrator
Entrepreneur
Firestarters Worship Center is an Equal Opportunity Ministry.
To be considered for a position, please Contact Us
Or send via mail to: PO Box 63, Ottertail, MN 56571

Click to download an internship application:

Internship Application (7.6k .DOCX file)
Internship Application (158k .PDF file)

Internship Details
Hours: 30 plus hours per week
Duration: 3-month internship
Type: Volunteer, unpaid. Students seeking a future in office administration, audio production, video production/lighting, business and/or ministry are encouraged to apply.
Qualifications
• Expertise or eagerness to learn required skills

• Comfortable working within a team as well as individually

• Flexible and self-motivated
• One year of appropriate educational background or prior involvement in a related field preferred
AVAILABLE INTERNSHIPS
Office Administrator:
Office Accountabilities:
Assist with secretarial office tasks including the following:
• Financial accounting such as with computer accounting software, bill payments and donations

• Office organization such as filing, bookkeeping and clerical work

• Ministry-related communication such as email, phone calls and fax
Audio Technician:
Audio Accountabilities:
Assist with sound engineering and live recording including the following:
• Live sound engineering and recording

• Mixing of web stream audio

• Stage setup and equipment repair
Video Technician:
Video Accountabilities:
Assist with video/tech tasks including the following:
• Becoming a camera operator: learning all aspects of professional camera operation and using them during our live shows/meetings

• Participating in the visual elements of the live shows, setting up lights, stage setup and perhaps video projection

• Reviewing/managing content for post-production videos
Entrepreneurial Intern
Business Accountabilities:
Assist with operation of two different businesses including the following:
• Running and maintaining a coffee house

• Learning retail and creative skills at a boutique

• Gaining insight into what is required to run a successful business