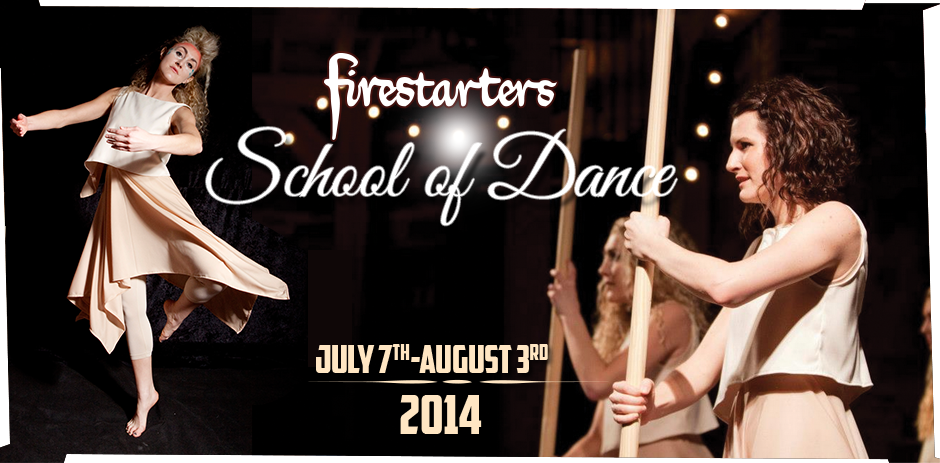 Firestarters School of Dance: A four week dance ministry intensive
[su_row]
[su_column size="1/3″]
"O worship the Lord in the beauty of holiness: dance before Him, all the earth." – Psalm 96:9
Details:
Dates:
July 7th—August 3rd, 2014
Cost
$1200 for students
Includes housing and weekday meals.
Application
Download Application
Questions? Give us a call!
Phone: +1.218.831.9699
Email: sophie_thiel@hotmail.com
[/su_column]
[su_column size="2/3″]
Firestarters is very excited to announce that we are starting our first School of Dance! The School of Dance will be hosted by Sophie Thiel. This will be a four week dance ministry intensive held from July 7th through August 3rd, 2014. Students will be arriving on Sunday, July 6th with school orientation on the following day. This invaluable experience is a significant step for your future and the call of God on your life. It's like a missions program but we'll be ministering in our own backyard – the USA.
Firestarters Ministries is a church where people have the freedom to express themselves in worship. It is a part of our mission to lead our congregation in prayer to God through music and art. The vision at Firestarters is to use the arts for the kingdom of God. In addition to our recording studio, we are also a traveling ministry.
The Ottertail area is a hot spot in the summer time as we are surrounded by many lakes. We'll have lots of opportunity to get some lake time in – tanning, swimming, beach volleyball, etc. You won't lose your summer!
Sophie Thiel been holding classes for the last two years open to the community and focused on modern, ballet, jazz and touched on other styles from ages 3-25. During the month of June, we're also hosting our first Music School, with Leonard Jones and his Levite Praise Institute, along with special guests, Jason Upton and Rick Pino. While the two schools will be held separately, we'll have weekend events including all students and trainers on base.
We'll have two studio locations to hold classes. The first is our main building called The Ottertail Creamery and some of our classes will take place there on the second floor. We also hold events and services in the Creamery as well, which also has a coffee shop and boutique. The other studio is a more confined space where we'll do our weight training, pilates exercises, and start off our mornings there.
We will be learning at least 4 dances over the 4 week span. The instructor will choreograph and teach choreography every day in the classes, and perform in the choreography with the students.
Here is our tentative schedule:
Every weekday morning, we will have group Bible Study and prayer, and then proceed to all of the classes that we have Monday through Friday. On Sundays, every student and instructor is required to attend Firestarters morning and evening worship services. Saturdays are free during the day unless a worship event is taking place. The schedule is designed to keep evenings open with the exception of special events that Firestarters hosts.
There is a 10 day worship and arts festival called The Gathering that Firestarters hosts every year. It's 10 nights of live worship music, teachings, and arts workshops. This year, the dates are Friday, July 25th through Sunday, August 3rd. Our dances will be filmed live in front of an audience and broadcast on the Firestarters YouTube channel. Since we will perform multiple dances every night, our classroom schedule will be more flexible during those 10 days.
After the Gathering, we will return to our normal 3-day schedule. Then, we will be traveling and ministering in Minnesota and the surrounding area along with some of our musicians. During the School of Dance we will be filming a music video to one of our group dances. We will also be a part of another music video project to a song called "Butterfly Town" written and produced by Peter Thiel of Remnant Records. These will both take place in the second half of the School of Dance.
God has ordained this season and we are honored to take part in leading this School of Dance.
The cost for the four week School of Dance is $1200 per student. This includes housing for the duration of your stay and your weekday meals. Instructors and students will be on their own on weekends but there is kitchen and fridge space available. Once per week, we'll be making a trip to a grocery store for everyone. For accepted applicants, Click Here to make an online payment toward your enrollment in the School of Dance. Bring extra funds for weekend meals and recreational activities.
Payment Schedule:
$500 minimum downpayment
Due upon acceptance of your application
Will secure your enrollment
Remainder Due by July 5th, 2014
To share the Facebook event page for the upcoming School of Dance with a friend, click here:
Facebook Event: School of Dance
Video of Firestarter's Dance Team performing in Sophie Thiel's music video:
"You Know Me By Heart."

[/su_column]
[/su_row]